Realme made its debut just two years ago in May 2018 with the Realme 1. In the short time since, the company has launched over two dozen smartphones and expanded its business in over 25 markets across the globe.
Realme offers great value for money smartphones across different segments, but the company is also quickly expanding its ecosystem. It launched its first true wireless earphones last December and in March its first fitness tracker, dubbed Realme Band.
Priced at the super aggresive INR1,499 ($20/€18), the Realme Band comes with a decent set of features including 24-hour heart rate monitoring, IP68 dust and water resistance and a USB-A connector for hassle-free charging. I used the Realme Band for more than two months and I'm ready to give you a rundown of its real-life performance.
Realme Band specifications
Display: 0.96″, 160×80 pixel color screen
Straps: Detachable TPU straps, 16 mm width, 152-227 mm adjustable length
Features: Real-time heart rate monitor, IP68 rating, USB-A connector, Sleep Tracking, Sports Tracking, Step Counter, Smart Notifications, Idle Alert, Drink Reminder
Sports Modes: Run, Walk, Bike, Hiking, Fitness, Climbing, Spinning, Yoga and Cricket
Sensors: PPG optical heart rate sensor, 3-axis accelerometer, Rotor Vibration Motor
Connectivity: Bluetooth 4.2, Compatible with Android 5.0+
Battery: 90 mAh
Colors: Black, Green, and Yellow
Dimensions: 19.6 x 11.9 x 240 mm
Weight: 20 grams

Design
The Realme Band has a sleek, clean design. Its body is made of plastic and has subtle curves, which allow it to fit nicely on your wrist. The smartband comes with detachable straps made of TPU, that are 16mm wide and have an adjustable length of 152-227mm.
The TPU straps are soft and feel comfortable. I wore the Realme Band for almost an entire day every day for over two months and it didn't cause any discomfort. At 20 grams, the Realme Band is very lightweight and it's easy to forget that you are wearing it. In fact, there were times I didn't feel the Realme Band on my wrist and had to look to make sure it didn't fell off.
Removing the strap from the top reveals the USB-A connector on the main module, which comes in a single gray color. But you get three options for the straps – Black, Green, and Yellow.
The main module has a PPG optical heart rate sensor on its back and there's a circular capacitive button below the display that lets you operate the Realme Band.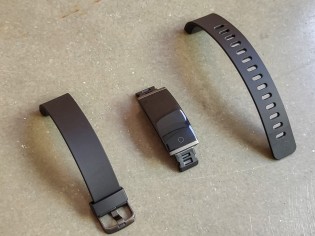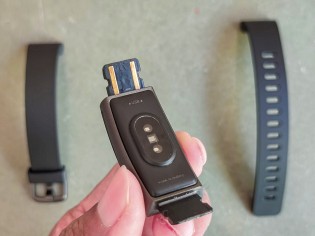 Realme Band comes with detachable TPU straps
A single tap on the button lets you navigate through the menu, which includes heart rate monitor, alarm, daily step count, regulatory details about the Realme Band as well as three of the nine sports modes set by default – Yoga, Cricket and Run. A long-press on the button for two seconds lets you check your daily step count data, manually measure heart rate, turn on the sports modes, and enable/disable alarms.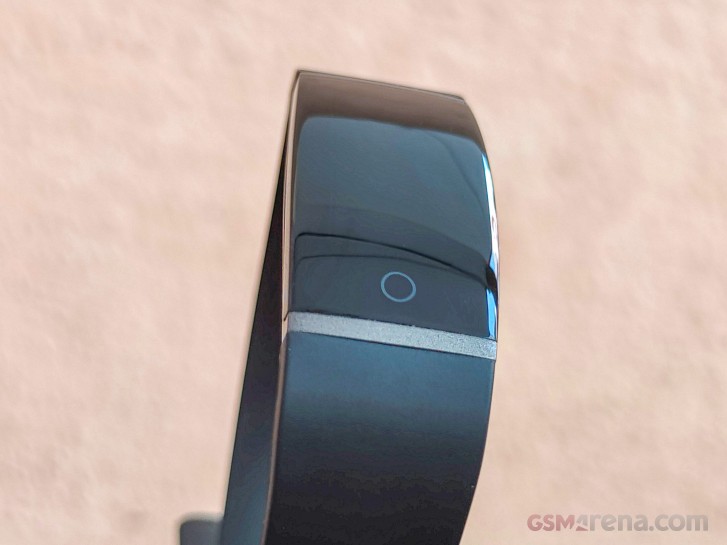 The Realme Band is IP68 certified, meaning it's protected against dirt, dust and sand, and you don't have to take it off your wrist when going in the shower. You can also wear it while swimming, but the smartband doesn't track swimming so you won't get any data about your performance.
Display
The Realme Band sports a 0.96″ TFT screen of 160×80 pixel resolution, which is capable of displaying 65,000 colors and up to 64 letters on one page. The smartband supports five watch faces and more will be added with future updates. You can choose the watch face you like from the Realme Link app, which we'll examine in detail in the Software section.
The default watch face displays time, daily step count, and a Bluetooth connection icon. It also shows the battery level of the Realme Band, but I'd have preferred battery percentage instead since I always had to open the Realme Link app to check the exact charge left in the cell.
None of the watch faces display the battery percentage right now, so that's something Realme can perhaps look to add through a software update.
Moreover, I'd have also liked to have customization options for the watch faces to see different information on the screen, like date or the daily average heart rate.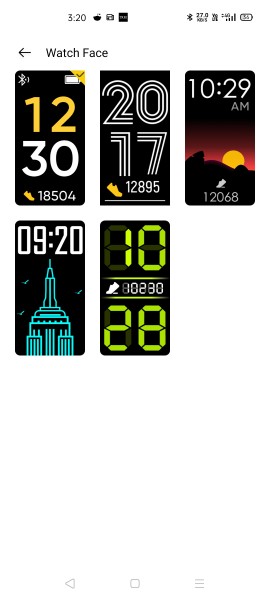 Realme Band currently supports five watch faces
The Realme Band doesn't have a touch screen, so you have to use the circular capacitive button placed below the display to operate the smartband.
A touch display would've made operating the Realme Band far easier since its button doesn't support swipe gestures which makes navigation quite a chore. And it's more annoying because there's no way to go back to the previous page without having to cycle through all the pages again, which is time-consuming.
The screen itself looks good indoors, but outside, it has very poor visibility. Even after covering the display with the hand and setting the brightness to the maximum level, it was quite difficult to see the on-screen content. This might be a deal-breaker since the Realme Band is a fitness tracker meant to be worn outdoors when exercising, and a screen with poor outdoor visibility defeats its purpose.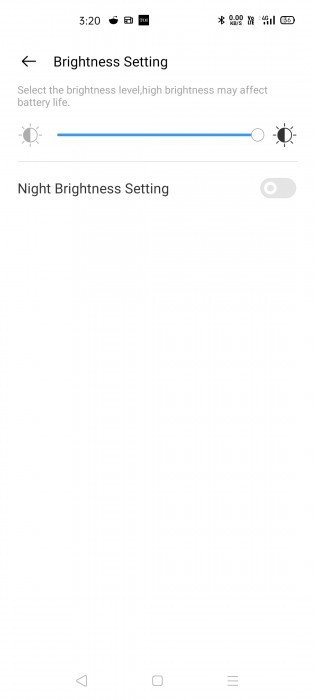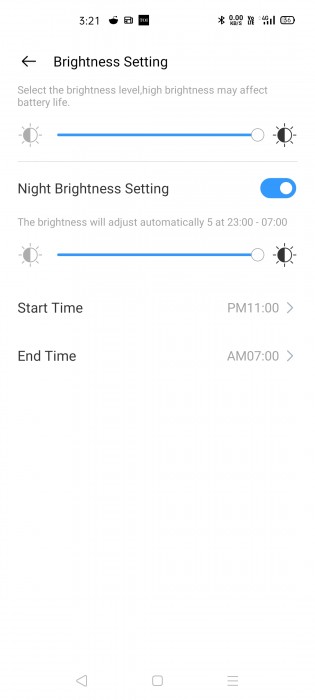 Adjust display brightness from the Realme Link app
All the information on the screen is displayed in portrait mode but you can also switch to landscape using the Screen Rotation option in the Realme Link app. I wonder why would someone want to use the landscape mode since it makes for very weird experience and the notifications get trimmed sometimes so you don't get to see all the information.
Speaking of notifications, the Realme Band comes with a feature called Smart Notifications which alerts you of incoming calls, SMS, and notifications from other apps installed on your smartphone with a vibration. We'll get into its details in the Features and Performance section.
There's also a Raise To Wake Up feature, which uses the 3-axis accelerometer to let you turn on the screen of the Realme Band by lifting your wrist to check the time, daily steps, and notifications. It also works when the Sports Mode is enabled.
You can enable and disable the Raise To Wake Up feature or set it to automatically turn on at a set time everyday through the Realme Link app.
Raise To Wake Up worked reliably, but the screen took longer at times to turn on.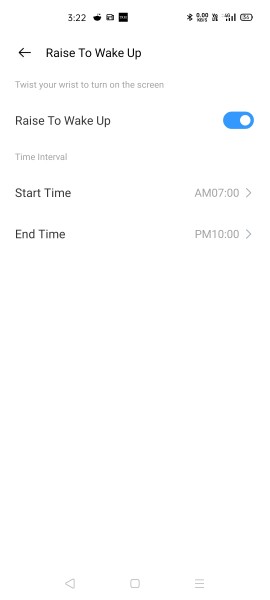 You can customize the start and end time for Raise To Wake Up from Realme Link app
Software
The Realme Band relies on the Realme Link app which is currently only available for Android devices. To control the Realme Band using the app, you need to create an account first. You can sign up either with your mobile phone number or email address.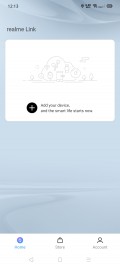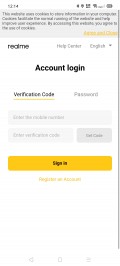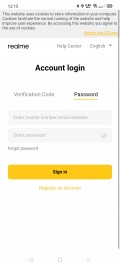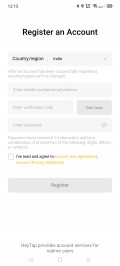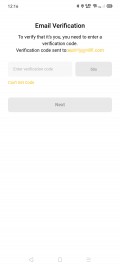 You can sign up with the Realme Link app using either mobile phone number or email
After creating the account, follow the instructions on the Realme Link app to pair the Realme Band with your device. Once connected, you'll see the Realme Band photo on the homescreen, clicking on which will sync the data from the smartband and you'll see the smartband's battery level and an overview of your daily steps, sleep, heart rate, and sports records. You can sync the smartband manually as well with a swipe down gesture.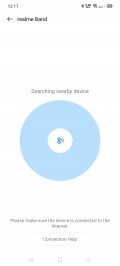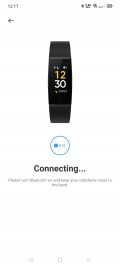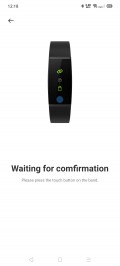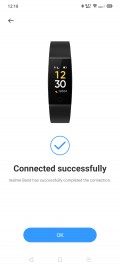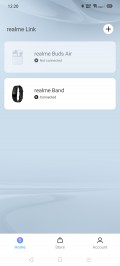 Realme Band pairing process
Up top is the gear icon that lets you access all the settings for the Realme Band, which include watch face, notifications for calls, SMS and apps, alarm, DND mode, daily goals, and more. You can check out the screenshots below to get a better idea.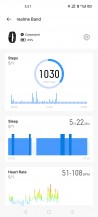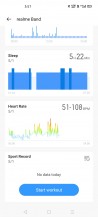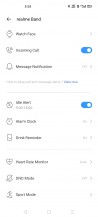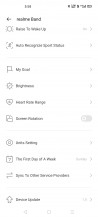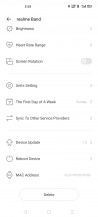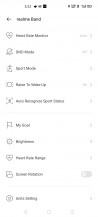 Realme Band settings in Realme Link app
The Realme Link app has a clean and simple UI, but the data synchronization isn't consistent. Sometimes it syncs in a jiffy and sometimes it takes a lot of time. The app picked up a few updates since launch, but it still needs some polishing.
Moreover, when you pair the smartband with a new device, the settings from your previous device aren't carried over, meaning you'll have to set up alarms, DND and drink reminder on the new device again. We hope Realme fixes this soon.
Plus, allowing the Realme Band to sync with the connected device automatically at a regular interval will be a good idea since you won't have to open the Realme Link app just to sync the data.
The company rolled out a software update for the Realme Band last month which brought along the weather function and the ability to make the phone connected to the smartband ring so you can find it if you misplace it. Yet our unit didn't receive it at the time of writing this.
Features and Performance
The Realme Band comes with heart rate monitoring, sleep tracking, step counter and nine sports modes, which include Run, Walk, Bike, Hiking, Fitness, Climbing, Spinning, Yoga and Cricket – the last one developed specially for India.
Other highlights include Idle Alert, Drink Reminder, and Smart Notifications.
Heart Rate Monitoring
Let's talk about heart-rate monitoring first. The Realme Band uses a PPG optical heart rate sensor that flashes a green-colored light on your skin, which is reflected and read by the sensor to measure the heartbeats.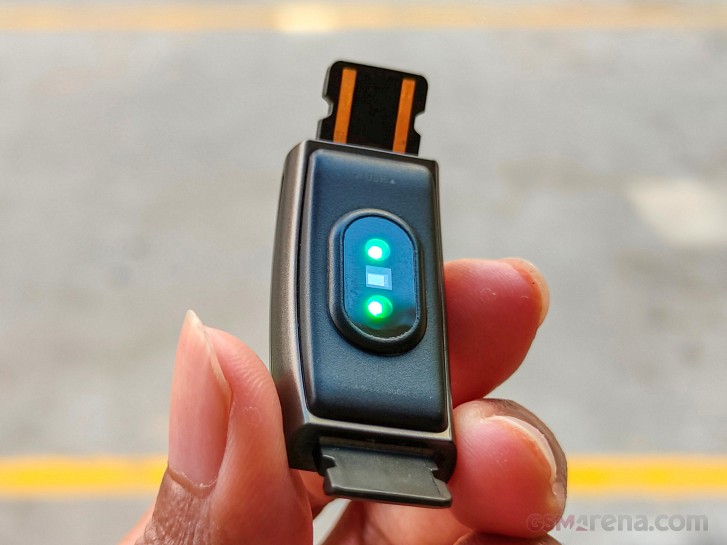 PPG optical heart rate sensor on Realme Band
The Realme Band measures heart rate automatically every five minutes, which is taxing on the battery, but you have the option to disable it and only manually check your pulse when you want. What is missing is a third option with a custom interval, so that the smartband only measures heart rate automatically during a specific period to help save battery.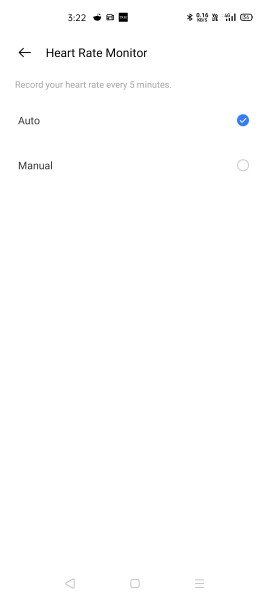 Realme Band has two heart rate monitoring options – Auto and Manual
To manually check your heart rate, you'll have to navigate to the Heart rate page on the Realme Band and long-press the capacitive button. The smartband takes longer than usual to measure the heartbeat sometimes, but not long enough to be a deal-breaker.
It's also worth mentioning that Realme Band comes with wear detection, meaning the smartband will not measure the heart rate if you aren't wearing it and will flash a message saying "Put band on". Nice.
You can find all your heart rate data in the Realme Link app. You can also set a maximum heart rate value from the app, exceeding which while doing sports will trigger an alarm.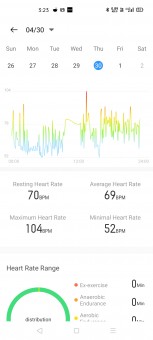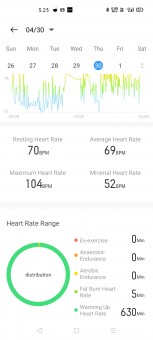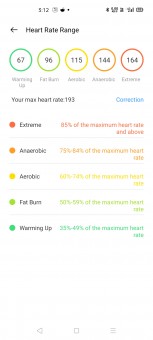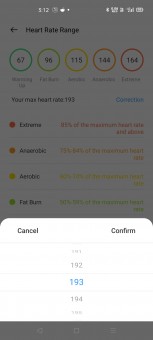 Heart Rate data and maximum heart rate value
Sleep Tracking
The Realme Band comes with automatic Sleep Tracking which is commonplace on fitness trackers and smartwatches. The sleep data is presented in a graphical form in the Realme Link app and it tells you when you fell asleep and when you woke up. The total sleep hours are then broken down to Deep Sleep and Light Sleep. The bar graph also tells you if you were awake at night, but it doesn't reveal at what time and for how long.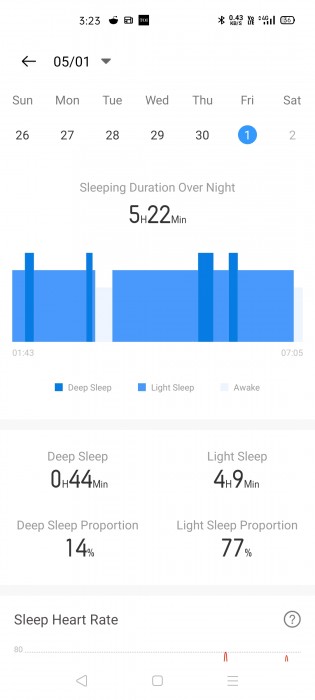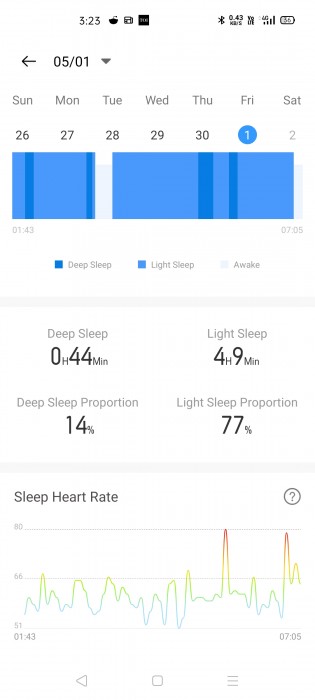 Sleep data along with sleep heart rate
The Realme Band measures the heart rate as well when you are sleeping. Surprisingly, it also tracked daytime sleep, but that only happened a couple of times.
That said, sleep tracking on Realme Band is buggy. Instead of recording the time when you actually woke up, it records the time when you get up from the bed.
Besides, the smartband also recorded sleep data when I wasn't wearing it. Perhaps Realme should use wear detection for sleep monitoring which it clearly isn't right now.
Moreover, there were several instances of Realme Band thinking I was asleep when I was actually awake and moving.
Sports Tracking
The Realme Band has nine sports modes – Run, Walk, Bike, Hiking, Fitness, Climbing, Spinning, Yoga and Cricket, which is developed specially for India.
You can turn on these sports modes manually from the Realme Band. It can store a minimum of one and a maximum of three sports modes. Out of the box, you get Yoga, Cricket and Run, but you can select your favorite modes as well as the order in which they appear on the smartband by heading to the Sport Mode menu in the Realme Link app. There's also a Sport Record section in the Realme Link app where you get an overview of your sports activities.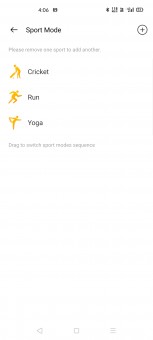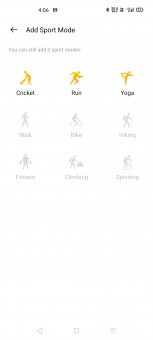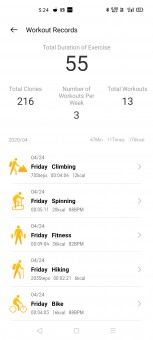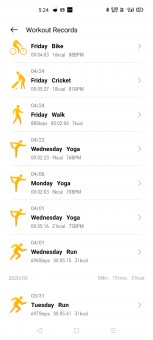 Default Sports Modes  Total available Sports Modes Sports Records
The Run, Walk and Hiking modes count the number of steps, pace, distance, duration, heart rate and calories burned, whereas Bike, Fitness, Spinning, Yoga and Cricket skip the steps, pace and distance. The Climbing mode, on the other hand, only skips distance recording.
The Realme Band is probably the first fitness band to feature a dedicated Cricket mode and since it was hyped a lot by Realme, I was quite curious to see how Realme provided data for the three main activities in the game of Cricket – Batting, Bowling, and Fielding. But there's nothing special about the Cricket Mode since it only tells you about the heart rate and calories burned while playing cricket; similar to Bike, Fitness, Spinning, and Yoga modes.









Run • Walk • Bike • Hiking • Fitness • Climbing • Spinning • Yoga • Cricket
Maybe Realme can add support for steps, pace, and distance recording to the Cricket Mode to make it more useful.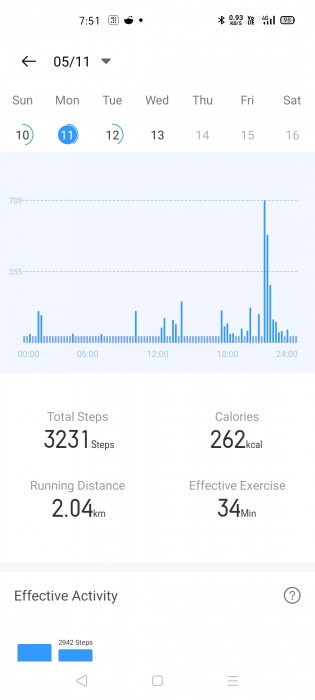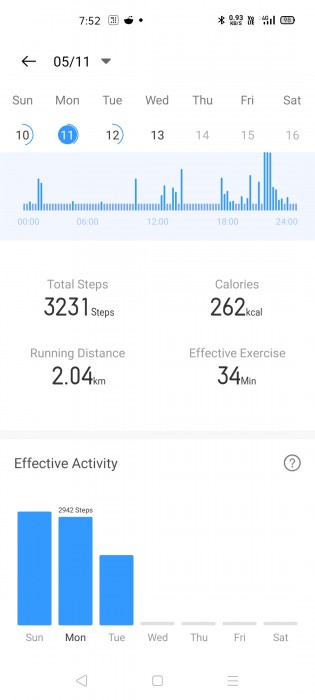 Steps data
Talking about the step counter's accuracy, it's not entirely perfect, like many other fitness bands. The smartband counted some extra steps, but it should still give you a fair idea of how much you walked and can work for monitoring progress.
Idle Alert and Drink Reminder
The Realme Band comes with Idle Alert and Drink Reminder – the former reminds you to move and take a walk if you sit for too long in one place, and the latter reminds you to drink water at regular intervals.
You can turn on both features from the Realme Link app. Idle Alert will ask you to "Do some exercise!" between 9 AM to 6 PM if you sit too long, but the Drink Reminder feature offers more granular control.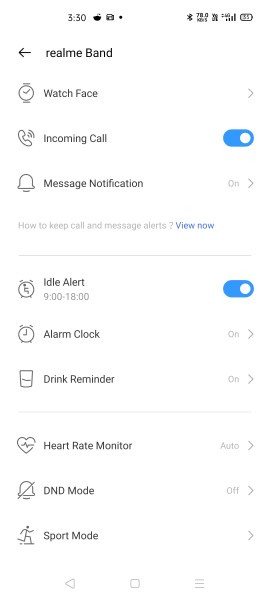 Idle Alert can be enabled from the Realme Link app
It lets you select the Get up Time and Bed Time and the days of the week when you want to be reminded to drink water. You get to select the notification interval as well, which includes six options – 15 minutes, 30 minutes, 1 hour, 1.5 hours, 2 hours, and 2.5 hours.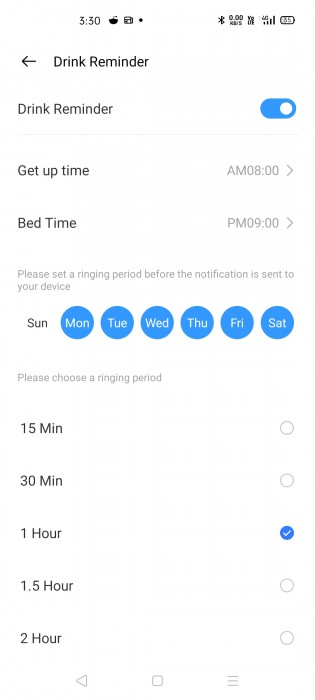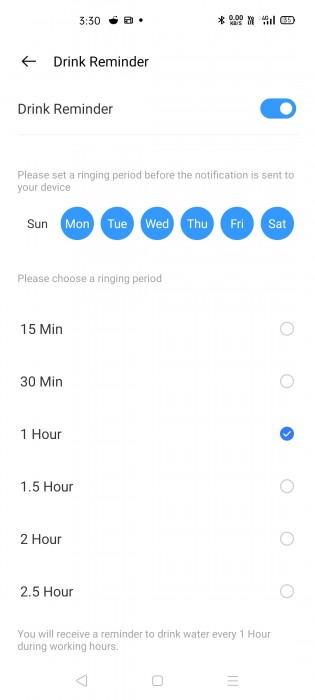 Drink Reminder settings
The Drink Reminder works well, but Realme could have made the Idle Alert more useful by gathering sedentary data about the users and presenting it in a way the heart rate and sleep information is shown in the Realme Link app.
Smart Notifications
Smart Notifications alerts you of incoming calls, SMS, and notifications from other apps installed on their smartphones with a vibration. You can head over to the Settings menu of the Realme Band in the Realme Link app and click on the toggle button in front of the Incoming Call option to enable/disable incoming call notifications.
You can reject the incoming calls from the Realme Band with a long-press on the capacitive button.
To turn on SMS and app notifications, you can head to the Message Notification menu in the Realme Link app and enable notifications on a per-app basis.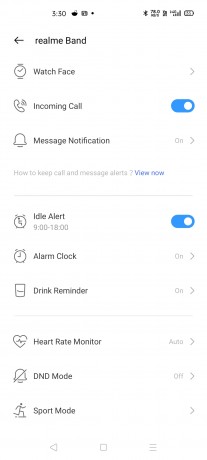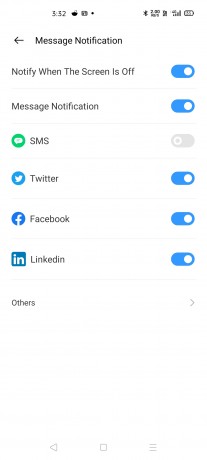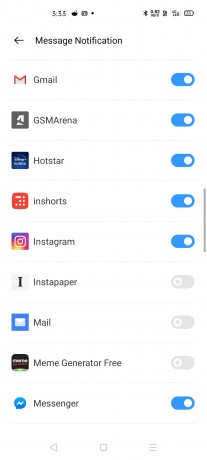 Incoming Call alert | App Notification alerts
The Realme Band displays notifications on the screen along with the icons of the corresponding apps, but this doesn't work with many apps – even popular ones like Gmail and Instagram. This sometimes makes it difficult to ascertain which app sent the notification.
Besides, the notification content is often truncated and when you receive multiple notifications, you can only see the latest one with no way to check the previous ones.
Realme really needs to improve the Smart Notifications feature, and in its current state, the Realme Band constanly makes you reach for your phone, without letting you screen notifications and only taking care of important ones.
Battery life
The Realme Band packs a 90 mAh battery which Realme says can offer six days of autonomy with heart rate monitoring turned on, and nine days without it.
In my testing, the Realme Band lasted seven days on an average with 24×7 heart rate monitoring and a barrage of notifications throughout the day (read: 100+), which consume additional power because the smartband vibrates when you receive them.
However, the usage didn't include any workouts, so those who'll use the Realme Band for activity tracking with 24×7 heart rate monitoring will get less endurance.
That said, the sports modes don't work when the battery drops below 20%, but step counter and heart rate monitor do. And once the battery dips below 10%, the Realme Band only shows the time on the screen and you have to charge the smartband to use other functions.
The Realme Band comes with a USB-A connector for hassle-free charging. This is easily one of the best features of the smartband since you don't need any additional cables to juice up the battery – simply remove the strap from the top side of the display and insert the USB-A connector into a USB-A port.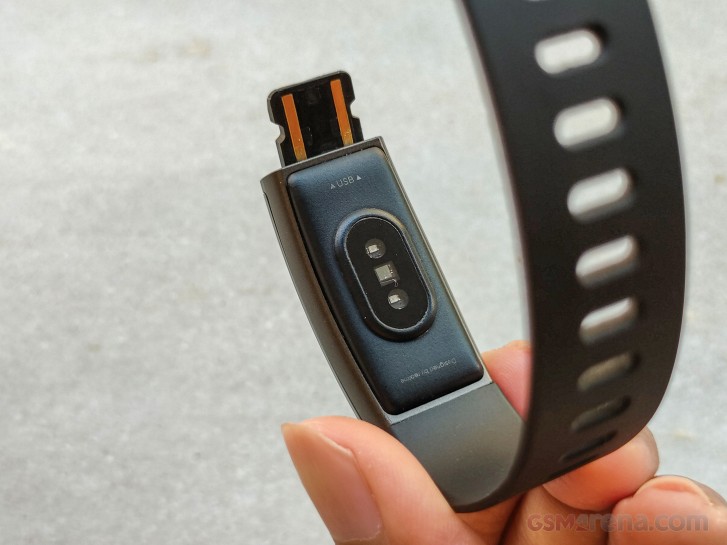 This is very convenient because you can not only charge the Realme Band using your phone's adapter but also through your laptop or power bank. And if your smartphone supports reverse wired charging, you can use a USB OTG adapter to charge the Realme Band with your smartphone. I wish more smartbands come with USB-A or USB-C connectors.
The Realme Band took around 1 hour 30 minutes to charge from 10% to 100%, and when it's charging, the red-colored indicator above the screen lights up but you don't get any notification from the Realme Link app when the battery is fully charged.
Competition
With a price tag of INR1,499 ($20/€18) in India, the Realme Band competes directly with the Xiaomi Mi Band 3 and Mi Band 3i priced at INR1,599 ($21/€20) and INR1,299 ($17/€16), respectively.
Both smartbands promise up to 20-day battery endurance and are water-resistant up to 50 meters. The Mi Band 3 and 3i also pack touch-based OLED displays, but unlike the Realme Band that sports a color screen, these have monochrome panels.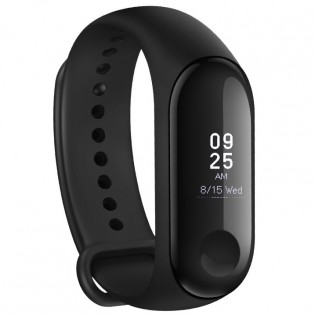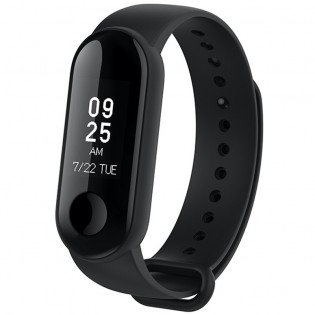 Xiaomi Mi Band 3 | Xiaomi Mi Band 3i
The Mi Band 3i doesn't come with a heart rate sensor, but the Mi Band 3 does. Neither of them has a USB-A connector like the Realme Band, meaning you have to deal with a proprietary adaptor.
However, if you are willing to spend a little more, you can buy the Honor Band 5i priced at INR1,799 ($24/€22), the Huawei Band 4 priced at INR1,999 ($26/€24), or Xiaomi's Mi Smart Band 4 that costs INR2,299 ($30/€28).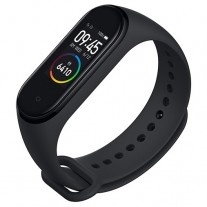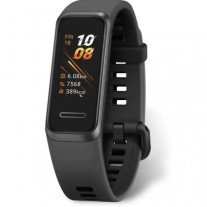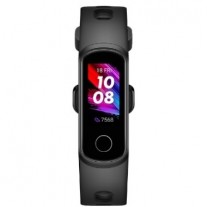 Xiaomi Mi Smart Band 4|Huawei Band 4|Honor Band 5i
The Huawei Band 4 is water-resistant up to 50 meters and comes with a color touch display, heart rate sensor, music control, and a USB-A connector. The Honor Band 5i also packs these features, but for INR200 less you get SpO2 monitor that measures blood oxygen saturation levels.
The Mi Smart Band 4, on the other hand, packs a full-touch color AMOLED display and can track swimming, which is something the Realme Band cannot do. Besides, it comes with music and volume controls and you can use a picture from your phone's gallery as the smartband's watch face.
However, it doesn't come with the USB-A connector for direct charging. You can head this way to read our Mi Smart Band 4 review to learn more about it.
The Realme Band currently only works with Android devices, but the fitness trackers from Xiaomi, Huawei and Honor mentioned above are also compatible with iOS devices, so that's another thing to consider before making a purchase decision.
Verdict
The Realme Band comes with enticing features like IP68 dust and water resistance, heart rate monitoring, and a USB-A connector. But the smartband's display has poor outdoor visibility and sleep tracking and step counting functions are also less than stellar at the moment. The much-hyped Cricket Mode isn't anything special either.
So is the Realme Band worth buying? Well, the Realme Band is a first-gen product and the Chinese phone maker has done a decent job with it. Of course, the sleep tracking and step counting features are buggy right now, but that's something Realme can fix with a software update.
If you are looking for an affordable fitness tracker and want the convenience of charging through the USB-A connector, then go for the Realme Band. But if you can let go of that convenience and are willing to extend your budget, then there are other options.
Pros
IP68 rating
Heart rate monitoring
USB-A connector
Lightweight
Cons
Display has poor outdoor visibility
Sleep Tracker and Step Counter are buggy
Notifications need improvement
Realme Link app needs polishing
We thank the Source for this review