We all use Google in our daily lives because we look for the little things and gather a lot of information. Google has become a fundamental need for all Internet users. But have you ever wondered if you can remove all activity from your Google server?
When we use Google for all sorts of things, Google stores our data on their servers and according to Google. This data is used to improve the user experience and display relevant ads. Google is transparent about this data and privacy, but there are some things we want to share and keep for ourselves.
Google stores all the data of users around the world in a database. Here's a detailed way to remove all these activities that you don't want to share with Google.
How to Delete all Activity from Google | Delete Entire History
It's really easy to delete Google search and browsing history from your browser. You might think it has been completely removed. Yes, it will be permanently deleted, but only from your side. However, it is still stored on Google's servers.


However, if you are logged in with your Google Account, then the data is only deleted from your device, and it is still available on the Google servers. Follow the below-mentioned method to completely remove it from Google servers as well.
Method 1: Delete all Activity from Google using the 'My activity' tool

Every Google Account has a feature called 'My Activity,' which has all your details of searches and history, and you can also manage this data within this tool.
To open this tool, first of all, login to your Google account using any web browser and go to the google homepage. After that, click on the circle account icon on the upper right corner of the page.
This will open a drop-down menu. Now select 'My Account' from the drop-down menu.
When you do this, you will see all the different account options on the next page. Find the option named My Activity and click Go to My Activity under the option.
Next, you'll see some slides with information about why you need to share your data with Google. Ignore the slide and continue to open the My Activity dashboard.


The My Activity dashboard shows all the history linked to your Google account. Find and click the option labeled Delete.


After this, you will see a pop-up that has several options to delete your history according to time. In our case, we want to delete the entire history, so we will select the 'all-time' option on the popup.
Selecting the 'all-time' option will bring you to the next window. Here all your activities which you want to delete will be selected by default.
You can uncheck any options if you want to keep that history on your account. After that, click on the next option to continue.
On the next page, it will ask for confirmation to delete. Again click on the delete option to proceed.
That's all you will see a deletion complete window on your screen. At last, click on the 'get it' option to finish.
Method 2: Remove all activity from Google using Android device

This is a very easy way, as the Google app is already installed on your device. To delete Google history and other tracking data using your smartphone, open the Settings app and go to your account options.
Here you can see all the accounts you are using on your device. Tap the Google account whose history you want to delete. In the next window, tap Google Account Options.
This will bring you to a new window here. Tap on the option named 'manage your data & personalization. After that, scroll down until you see the 'My activity' option and tap on it.
This will redirect you to the login page. Here login with the same Google account, and you will be on the 'my activity' page. Scroll down and look for the delete option and tap on it.
After that, select the 'always' option on the pop-up as you want to delete all the history. you can also select other options if you want to delete only a part of history.
Now, on the next window, you will see all your activity selected by default for deletion. Tap on the next option to proceed. You can uncheck any option if you want to keep that data or history.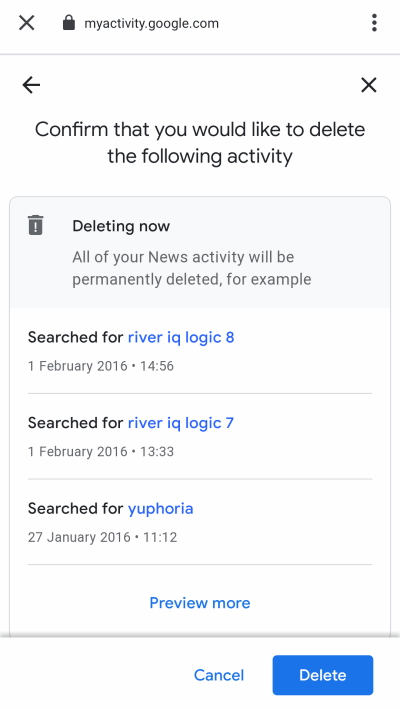 After that, you need to confirm the deletion by clicking on the delete option in the next window.
That's all you will see a confirmation popup after successful deletion. At last, click on the OK option to complete the process.